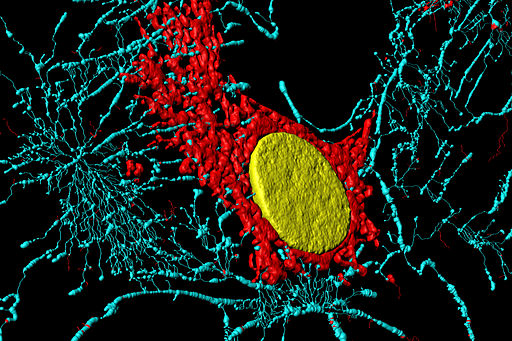 Fibroblast image by Heiti Paves (Own work) [CC BY-SA 3.0], via Wikimedia Commons.
The next session of #RheumJC will be Thursday, June 2, 2016, discussing a recent article from The Lancet by Khanna, D., et al, looking at the role of IL–6 blockage in scleroderma, titled Safety and efficacy of subcutaneous tocilizumab in adults with systemic sclerosis (faSScinate): a phase 2, randomised, controlled trial.
This article is open access and can found on The Lancet or via PubMed.
*** We goofed! This article isn't actually open access, but we'll do a rundown of the article on Twitter during the #RheumJC session.***
We will again have two one-hour sessions, the first at 9pm GMT (4pm EST) and the second at 3am GMT (10pm EST).
If needed, take a look at our Intro to Twitter page or our Journal Club Getting Started Guide.
We strongly suggest using the website tchat.io as the best way to participate in the chat by typing in the #RheumJC hashtag to join the discussion.
As always:
Please remember to try to stay on topic whenever possible.
Be polite and courteous.
Do not violate HIPAA.
We welcome suggestions for future articles for discussion. Please send your suggestions by Direct Message on Twitter to @RheumJC or email us at rheumjc@gmail.com.