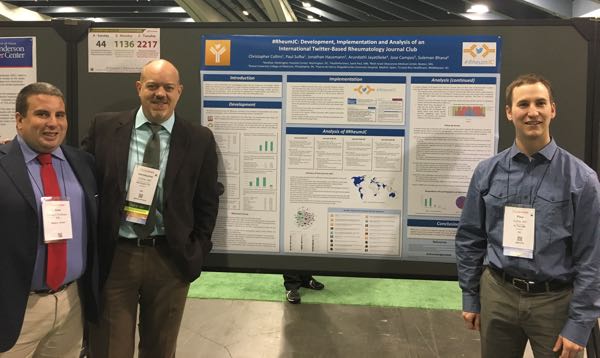 The next session of #RheumJC will be Thursday, December 10. We'll be discussing three of your favorite abstracts from the 2015 ACR Annual Meeting based on your votes from our recent Twitter poll.
We will again run two one-hour "live chats" so as many people as possible can participate:
Session 1: 9pm GMT (4pm ET)
Session 2: 3am GMT (10pm ET)
ABSTRACT NUMBER: 505
Comparative Effectiveness and Time to Response Among Abatacept, Adalimumab, Certolizumab, Etanercept, Infliximab, Rituximab and Tocilizumab in a Real World Routine Care Registry
ABSTRACT NUMBER: 1075
The Scleroderma Lung Study II (SLS II) Shows That Both Oral Cyclophosphamide (CYC) and Mycophenolate Mofitil (MMF) Are Efficacious in Treating Progressive Interstitial Lung Disease (ILD) in Patients with Systemic Sclerosis (SSc)
ABSTRACT NUMBER: 3223
Anifrolumab, an Anti-Interferon Alpha Receptor Monoclonal Antibody, in Moderate to Severe Systemic Lupus Erythematosus (SLE)
If you are new to using Twitter, take a look at our Intro to Twitter page.
If you are participating in a Twitter journal club chat for the first time, please read our Getting Started Guide to get some tips on how to make the most of this session and not get too bogged down. Some additional pointers:
Please remember to try to stay on topic whenever possible.
Be polite and courteous.
Do not violate HIPAA.
As always, we welcome suggestions for future articles for discussion. Please send your suggestions by Direct Message on Twitter to @RheumJC or email us at rheumjc@gmail.com.
Also, if you're interested in helping with #RheumJC over the next year, check our our post Expanding the #RheumJC Team.